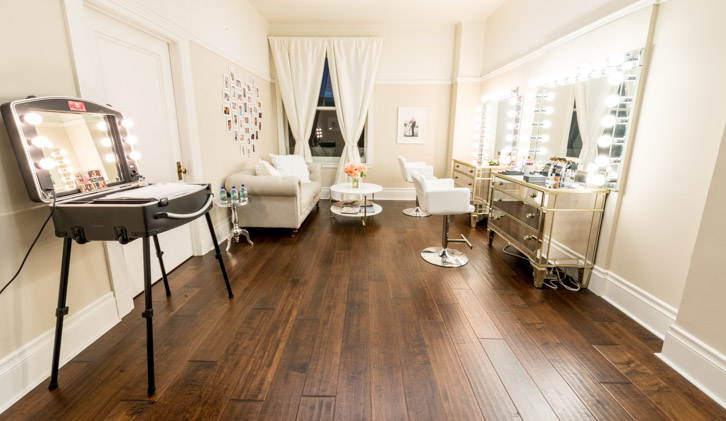 About Triple Twist
Experienced, Professional Artistry
Mei is a professional artist, former Cirque du Soleil star and international gold medalist featured on Cirque's Emmy-winning DVD. This 20 years of experience combined with professional training at the Makeup Designory in Los Angeles means that you are in the best hands on your wedding day.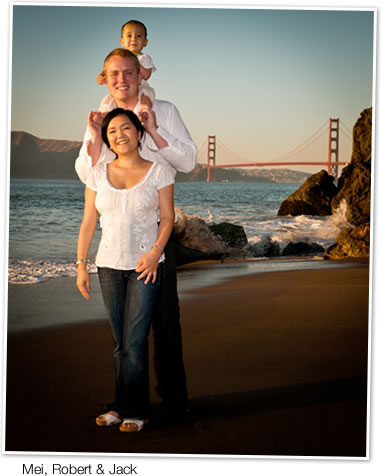 Natural, Elegant Beauty
You want a beautiful, effortless look for your wedding day, and want to look timeless in your wedding photos. This is what we promise to deliver. See real brides »
Relaxing Bridal Trials with Photos
Your one-on-one bridal trial takes place at our small studio in downtown San Francisco. Start with a consultation, work with Mei to create your vision, and we'll end with a few trial photos, delivered the same day.
The Best On-Location Service
We have created the best on-location service in the industry and arrive with a complete mobile studio at your home or bridal suite. We bring director's chairs, a lighted makeup table with vanity mirror and everything else required to provide full service on location for you and your entire party.
Hair and Makeup that Lasts
Our foundations, waterproof lipstick, waterproof mascara, individually placed lashes and hair designs will last your entire wedding day. Everyone having their makeup done by Mei gets a complimentary powder puff with their custom foundation color embedded in it for quick touch-ups throughout the day.
Minute-by-Minute Scheduling
Our studio manager, Robert, will prepare you a detailed schedule based on your requested stop time, party size and requested services. This makes things go smoothly for you, your bridal party and other wedding vendors.

Highest Quality Products
Using only professional makeup and hair products (including Makeup Designory foundations, Dior, Chanel and Shu Umuera) and we offer palette-mixed, custom foundations that match all skin tones.
World-class Customer Service
We love listening to our brides and answering all your questions. Our studio manager, Robert, is available daily to handle your questions and concerns and assist with scheduling and contacts. Our mission is simple: to provide you with the best experience possible from start to finish.
Environmentally Green
We designed our studio with eco-friendly bamboo flooring and installed ENERGY STAR qualified lighting. We have reduced our paper consumption by 90% by choosing secure, online databases for our contracts, digital images, and correspondence.
Wedding Experts
We love that we are able to focus on one thing and do it well: weddings. We have strong relationships with photographers, venues, videographers, event planners and advertising firms.
Don't Take Our Word For It!

Certified by the Guide
We are certified by Here Comes the Guide, a rigorous certification process from California's top wedding guide.

Yelp Loves Us
We have a solid 5-star rating on Yelp and are always updating our promotions to Yelpers.

Featured on The Knot
Triple Twist is featured on The Knot, the largest wedding planning resource in the United States.
About Us
Mei Zhou, Owner
Mei has over 20 years of artistic experience on the world stage, and she created Triple Twist to give you the perfect, timeless look for your special day. Her makeup and hair studio is located in San Francisco's historic Flood Building in Union Square.
Triple Twist is Certified by The Guide and is featured on The Knot, America's largest wedding resource. Mei is a top graduate of the acclaimed Make-up Designory in Los Angeles, where she studied beauty, fashion, and avant-garde makeup and hair design.
Mei is also a M-A-C Pro and Shu Uemura VIP member. While Mei uses and loves these products, she also uses Chanel, Dior, MUD foundations, Matrix, and many other hand selected professional products.
You can see Mei perform her flying triple twist on Cirque du Soleil's Emmy-winning DVD production, Dralion.
Robert Thompson, Studio Manager
Mei's husband and studio manager, Robert manages correspondence, contracts, scheduling, and other fun parts of the business. Formerly a solo violinist for Cirque du Soleil and the Hot Club of San Francisco, Robert enjoys home-brewed iced coffee and teaching son Jack how to sing altered scale arpeggios.
Client Reviews
Dana S. (San Francisco)

Hi Mei and Robert, Thank you so much for everything you did to make us beautiful for the wedding.
Carol K. (Kauai)

All I have to say is "Mei is a perfectionist!"....she traveled to Kauai for my wedding and made me look perfect from my ceremony up to the reception. She also did my mom's make-up and understood exactly how to work with her skin's needs.

Now that I am back from our destination wedding, I couldn't help but write this review to rave about her! She is a professional who is fun and understands your needs. The make-up looked very natural and it came out in my pictures flawlessly!! Mei can do amazing things with fake eyelashes-- they were lush and looked real!

One thing I've noticed from working with different make-up artists in the past (many times as a bridesmaid), some don't clean their brushes. Mei told me at the trial she cleans her brushes and make-up with alcohol which is probably the main reason my skin remained flawless and didn't break-out by the end of the night (my skin can get sensitive at times).

Thank you so much for being there, Mei! I will definitely refer my friends who had recently got engaged to you. :)
Julie N. (San Francisco)

Hi Mei (and new daddy Robert), Thank you so much all your hard work for our Sept. 19 wedding at the Clift. My girls and Mom looked amazing. Everyone commented on how wonderful we all looked! I hope that you and your growing family have a blessed holiday season!
Heidi M. (San Francisco)

Dear Mei - Thank you so much for making me so beautiful for my big day! I got so many compliments (especially on my hair)! You are so talented and I'm very glad I was able to work with you.
Sherri A. (Portola Valley)

Thank you for such a great job before my wedding. I loved my make-up and it looked wonderful all day and night long.
Rosalyn C. (Mountain View)

Thanks so much for doing my consultation yesterday and I've decided that you'd be the best person for hair for my wedding! I love the hairstyle and I got so many compliments for it, too. I went in, she took a look at my hair/facial structure and suggested a style. I tried it and it turned out awesome. It was elegant and unique in all the ways that it should be. It's a hairstyle that's so beautiful. It turns out that she's a trapeze artist turned makeup/hair stylist. She used to tour with Cirque du Soleil and is from Yunnan China. It's pretty cool to talk to her and get to know her. Oh, and her name is Mei and her company is Triple Twist Makeup and Hair. I took a huge risk and it majorly paid off. like Big time.
Melinda M. (San Francisco)

I wanted to thank you both for how comfortable you made me feel... I felt beautiful (thank you Mei) and got lots of compliments.
Six Reasons to Choose Triple Twist: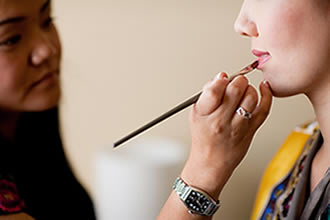 A True Professional
Mei is a former Cirque du Soleil star artist who now focuses exclusively on natural, beautiful makeup and hair design for weddings. With over 20 years of experience, you could not be in better hands on the biggest day of your life.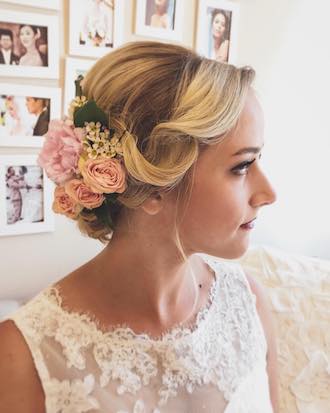 Wedding Specialists
Because we only do weddings, we know exactly what our brides are looking for – natural, beautiful makeup and flawless, precision hair styling. This is what we promise to deliver.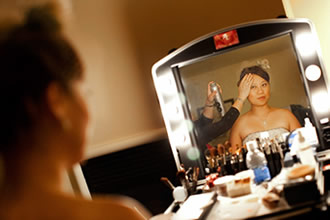 Best On-Location Experience
We arrive with an Italian makeup table and director's chairs to provide the most comfortable setting for your day-of service. Best of all, you'll have an amazing lighted backdrop for your pre-ceremony photography.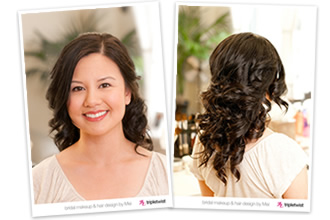 Professional Trial Photography

Your trial photos are emailed just after your trial in color and black and white. We shoot on a Canon 5D Mark III with L-series lenses, the same high-end gear your photographer uses.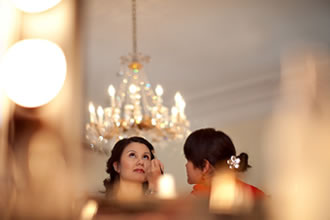 In-Studio Bridal Trials
Our one-on-one bridal trial is designed to make you feel your absolute best in a peaceful, stress-free atmosphere in our bridal studio in Union Square. Discuss your vision and goals with Mei for a natural, beautiful look.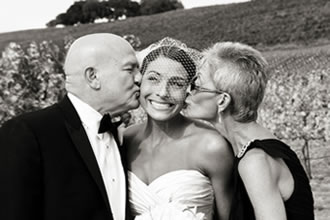 World-class Service
We love our job. And we love working with clients like you. Our studio manager, Robert, is dedicated to answering your questions and emails right away. Feel free to contact us or call at 888-865-6960, or connect with us on Google+, Facebook, Twitter!